Bonus Coverage with Bonus Card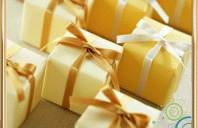 GPI holding, Goodwill and G.Mart have launched a joint promotional campaign targeting owners of Goodwill and G.Mart loyalty cards.. The slogan of the campaign is Bonus coverage with Bonus Card: GPI Holding offers owners of Goodwill's Bonus Card or G.Mart's Falco Card special car and/or home insurance package and a bonus points of GEL200 for the Christmas shopping. The bonus points can be spent at any time in Goodwill or G.Mart chain in Tbilisi or Batumi.
Guram Muskhelishvili, Head of Retail Sales department: "We wanted to offer promotional package to our clients – especially on the eve of Christmass. For this year, we decided to join Goodwill and G.Mart and elaborated special offer for the poyalty card holders – insurance plus bonus points of GEL200. Offer is valid from Decembe 10, 2010 through January 10, 2011. I think it is a quite attractive offer –clients will have double benefit : full insurance package during the year and bonus amount for the Christmass shopping."
The presentation of the event was held at the hypermarket Goodwill. Participants of the event were actress Shorena Begashvili, TV host Ana Koshkhelishvili, actors Levan Khurtsia and Kakha Mikiashvili. GPI Holding presented one year Travel Insurance policies to the participants of event.

13.12.2010