Free Medical Examination For Students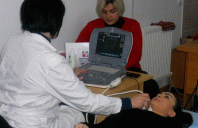 Insurance company Imedi L and University of Georgia conducted free medical examination on thyroid gland especially for students of the University.
The activity was carried out by highly qualified doctors, with modern ultrasound equipment.
About 650 insured students were examined and 90 cases were revealed.
The results were sent to the laboratory "Mrcheveli" for further hormonal investigation.
The medical examination proceeded for 3 weeks.
Imedi L International is one of the most stable and dynamically growing insurance companies in Georgia, which has strengthened its reputation through high level services, firm guarantees of stability and financial strength. It should be noted that the success of the insurance company is proportionate to irreversible growth of insurance culture among the population. Service quality is a very sensible and actual issue in the Georgian reality.
07.03.2011