Aldagi BCI starts developing agricultural insurance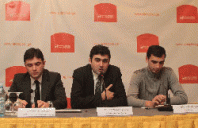 The insurance company Aldagi BCI starts developing insurance in the agricultural sector. In the first quarter of 2011, Aldagi BCI will offer the market new agricultural insurance products: field crops, vineyards, fruit trees, greenhouses, Livestock insurance.
As the Director-General of Aldagi BCI Nikoloz Gamkrelidze stated when discussing novelties planned in the agro-insurance sphere at a press conference held at Tbilisi Marriott Hotel, the company had already made contracts with the world-known reinsurance companies for reinsuring the risks that may arise in the Georgian agro-insurance sector.
"Despite the fact that this segment is rather risky, we are ready to invest. For this reason , we invited the representatives of the International Finance Corporation who were rendering technical aid to the agricultural insurance industry in Ukraine.
We actively collaborate with the the Ministry of Agriculture of Georgia.
As a result, we have signed up contracts with several farmers to insure their wheat yield against possible risks.
We are also working on insuring other crops, such as maize, vegetables, as well as cattle, sheep and other livestock, and soon these products will be offered to the market. I believe that the insurance sector development is greatly depended on investments made in agriculture.
The enhanced accessibility of banking products to farmer is very important for the sector's development, and I think that it is insurance that can facilitate and make it possible banks to easily and actively engage in crediting this sector.
In the final analysis, these efforts will greatly contribute increasing of the share of agriculture in the country's economic development" - stated he Director General of Aldagi BCI Nikoloz Gamkrelidze.
Aldagi BCI is the first insurance company who issued the first agro-insurance policy in 2010. The company is actively engaged in insuring various agricultural crops. Aldagi BCI issued the first agro-insurance policy in November, thanks to which several farmers have managed to insure their wheat yield.
Compared to other competitors, the insurance product offered by Aldagi BCI covers many unexpected risks, which the farmer may be threatened. The said product can insure the wheat yield against the following risks: drought, freeze, soil dehydration, hail, fire, windstorm, snowstorm, whirlwind, tornado, downpour, etc.
In addition, company offers consultations concerning this field from a qualified expert.

07.02.2011